KEEP YOUR SYSTEM FUNCTIONING PROPERLY
Avoid costly repairs and keep your system running at its best with routine pumping from the commercial and residential septic system experts at JW Septic.
Septic tank services
Tank Cleaning
Cracked pipe / sewer line repair
Tank Locating
Drain field maintenance
Commercial and residential
Pumping
Fast, dependable services
Competitive pricing
Protect your investment
Failure to properly maintain your septic system may result in damage, backups, and costly repairs. Protect your investment with routine pumping services performed by the highly qualified and experienced experts at JW Septic. We'll perform the maintenance and help extend the life of your system. If we find a problem you can be confident knowing we have the knowledge and skills necessary to fix it.
If you're in need of septic system maintenance, service, or inspections we're here to help. Check out our FAQ's page for more information and look at our helpful tips on how to keep your system healthy.
Serving the septic needs of Whatcom County since 1992. Call today!
360-966-2153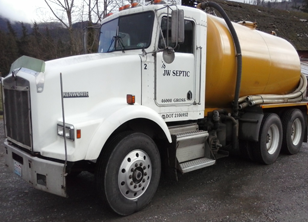 Septic tank pumping
You can depend on over 20 years of experience in the septic system business for a prompt response and prices you can afford.